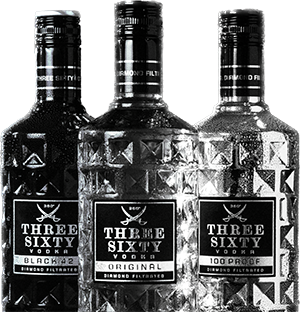 The purity
of the diamond
In our exclusive diamond-filtration-process, we remove the smallest suspended particles from the vodka destillate.
In this way, particles down to a thousandth of a millimeter are filtered out. This unique refining process forms the innovative basis for the incredibly mild taste of THREE SIXTY VODKA.
Three Sixty Vodka Original
Purity without compromise
THREE SIXTY VODKA ORIGINAL is refined with a complex fourfold distillation and a unique diamond-filtration. This is the basis for the unusually mild and smooth flavor profile at 37.5% vol. The high-class appearance underlines the uniqueness: The brilliance-glassbottle with striking facet-cut and the characteristic velvetlabel with noble silver embossing complete your premium vodka!

Three Sixty Vodka Black 42
BLACK 42 is the noble alternative. Four times distilled and diamond-filtered like the Original – but with an adjusted alcohol content of 42 % vol. The BLACK42 is ideal for mixing long drinks and cocktails. The spectacular, black bottle design with facet-structure and noble velvet-label provides the ultimate night factor.
Three Sixty Vodka 100 Proof
With a volume share of 50%, the 100 PROOF sets clear standards. The use of the best European grain is perfectly balanced and accentuated by the fourfold distillation and the patented diamond-filtration. Thanks to the striking brilliance-glassbottle with chrome facets and black-velvet-label, the enjoyable exclusivity of 100 PROOF immediately catches the eye.